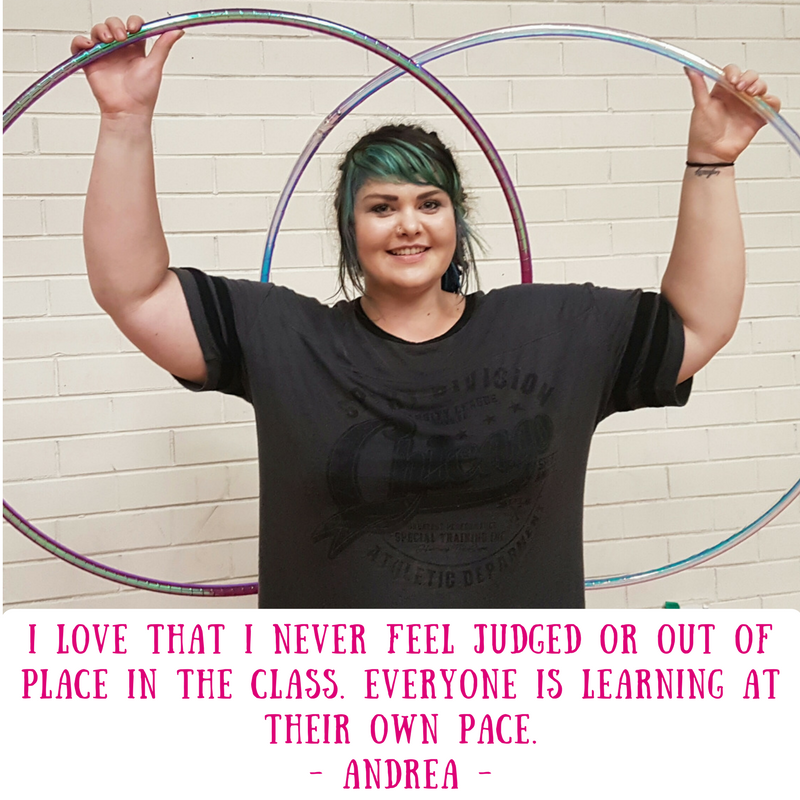 Which class do you go to?
Wednesday night – All levels
When did you start hooping?
4th term last year – about 6 months ago!
What inspired you to join hoop class?
I first viewed hooping in a serious light after watching the many talented hoopers at music festivals.
They made me want to learn this new skill and take on a new hobby.
What do you love about hoop class?
I love that I always leave hoop class feeling better than when I came in.
I love that we learn something new every week.
I love that I get to engage both my body and my brain in figuring out tricks.
I love that I never feel judged or out of place in the class – everyone is learning at their own pace and Donna is a great facilitator for this.
I love that I get to spend time with my sister (who also does the class) and share a bunch of smiles and giggles with other class members.
I love that I get to exercise without it really feeling like doing a workout – you'd be surprised what aches the next day!
Words of advice for people starting out or thinking about getting in on the hoop spin?
To anyone thinking about starting hooping, I would definitely say do it! It's a great hobby and skill which you can practice in class, in your backyard, on the beach, up a mountain – wherever you like!Like anything, you'll get out of it as much as you put in. Things don't always come easy at the start but it's so rewarding when they do. Hooping has opened up so many new skills, friendships and connections for me in such a short time that I would recommend it to anyone!