Try a FREE Beginners Class
You're invited to step into the circle. It's time to spin up some joy, get moving and get your giggle on. Pop your email below and we'll send you the free download link for WEEK ONE of the BEGINNERS COURSE #1.
Play at your own pace.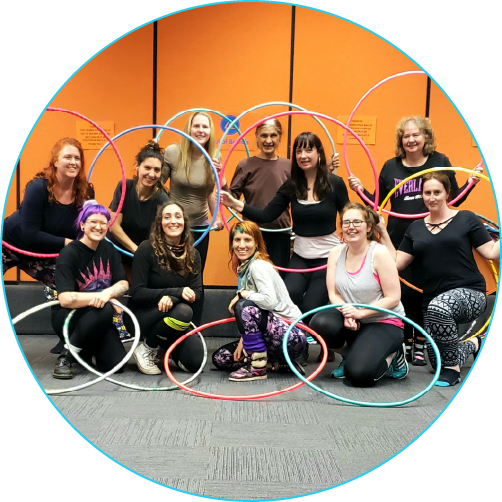 "I love that Donna works to make classes accessible regardless of experience and body type. The inclusive language used makes it easier to feel comfortable in the space, and her enthusiasm makes every attempt feel like a great success!
I typically feel nervous before class, but that disappears as soon as we get started, and by the end I'm feeling excited about whatever new skill I've picked up!"
– Brede
Beginner and Intermediate classes are open for booking, in Brunswick, Footscray and Malvern. We also have a Live ONLINE class happening Tuesday's 530pm-630pm AEDT.
Private Lessons
are available if you are looking to keep levelling up. Available both in person (Melbourne) and online. Guaranteed to help find flow, improve fitness, build skills, and have fun.
Video Download Classes
are a great way to learn at your own pace. You can pause and rewind as much as you like.  There are so many classes to choose from. If you're feeling pretty confident with the hoop check out the Intermediate 
Finding Your Flow
 class pack.
Just keep spinning…
You're invited to step into the circle. It's time to spin up some joy, get moving and get your giggle on.
Hoop Sparx classes are the fun way to get fit!
You'll learn the foundations of hula hooping before levelling up with all kinds of on and off-body tech, tricks, flow and combos.
Whether you're a total beginner or you've been hooping for some time, we've got you covered.
It's time to stop running around in circles and start spinning them!
TRY A CLASS FOR FREE
WHY HOOPING IS SO POPULAR
It's hard to believe that having this much fun counts as exercise. There are so many benefits – all you need to do is choose to come and play.
Give yourself a boost: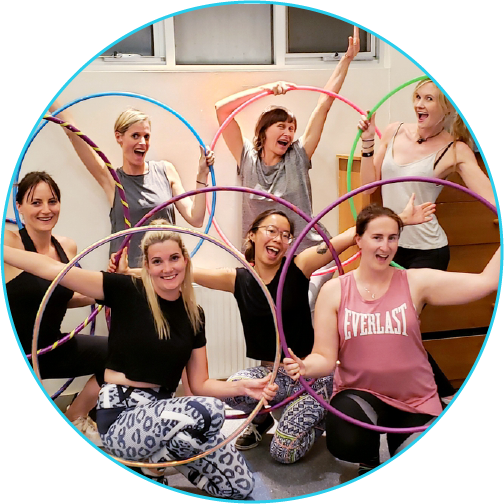 Burn over 300 calories.
Get your heart pumping.
Powerful posture.
Full body workout.
Movement meditation.
Mindfulness.
Connect with the breath and body.
Meet new people, make new friends.
Become part of an inclusive, vibrant community.
Learn to hoop and level up.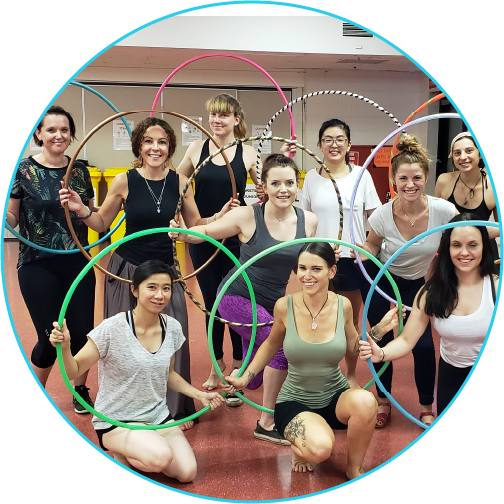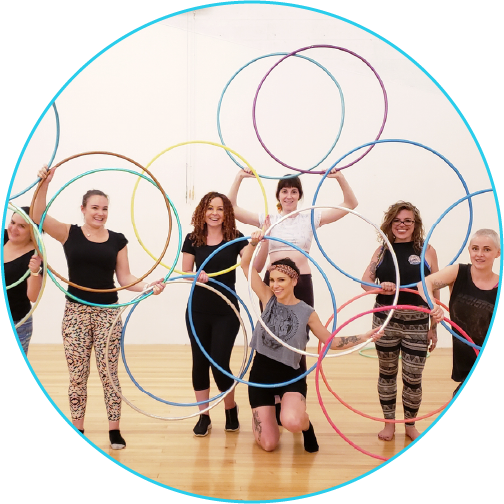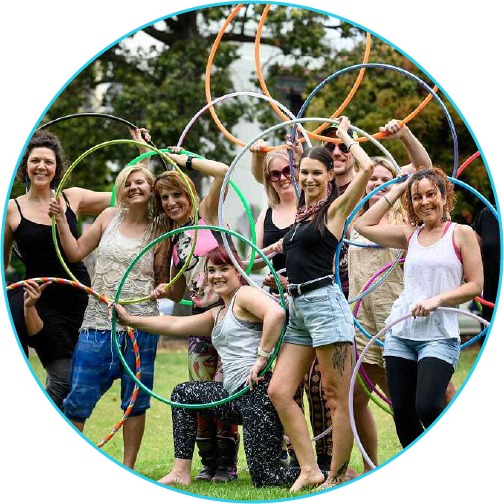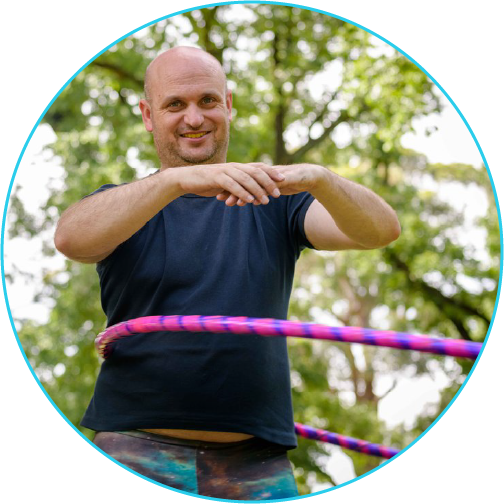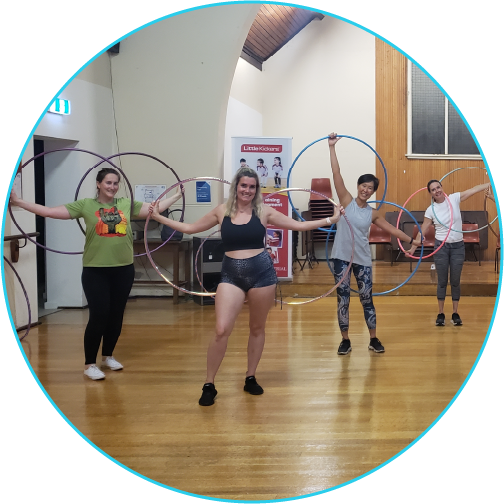 WARNING!!!
It's addictive – once you start spinning, you might not be able to stop.
Be prepared to want to practise because it feels like play. The weekly class will become your portal to a space where you can let go, be yourself, unleash whatever is there in the moment and land back in your body. It is a time for you to do something just for you.
Hoop classes are also a great place to make new friends. Only hoopers get just as excited as you do when you finally nail a move you've been practising for weeks!
Hoop Sparx classes are a safe, supportive, and encouraging space for people aged 14+, from diverse backgrounds and varying levels of fitness. Our oldest regular student is in their late sixties!
"Fabulous for people who dislike the term 'exercise' but love fun, and movement. Re-connect with your inner child."
– Aurora
"Donna is a patient, fun, inspiring, quirky and energetic teacher and hooper. Her class is always so fun and well organised"
– Lizzy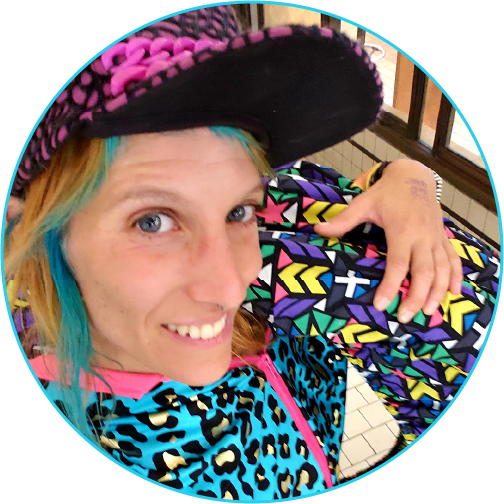 Donna Sparx is a professional hula hooper and one of Australia's leading hoop dance teachers. Recognised globally for her creativity, innovation, flow facilitation and playful approach, she has taught thousands of people to hula hoop!
Donna has performed with the Women's Circus and trained under hoopers from Europe, UK, Canada and the USA. She brings a passion and playfulness to her work that is infectious.
Her motto: Do it 'til you can.
When not playing with or teaching hoops, Donna can be found hanging out with her dog, training hoops and handstands, dancing, inventing new smoothies, getting out of the city, crafting, or deciding which leggings will best reflect her mood.
"The classes cater to a range of experiences and are the highlight of my week!"
– Steph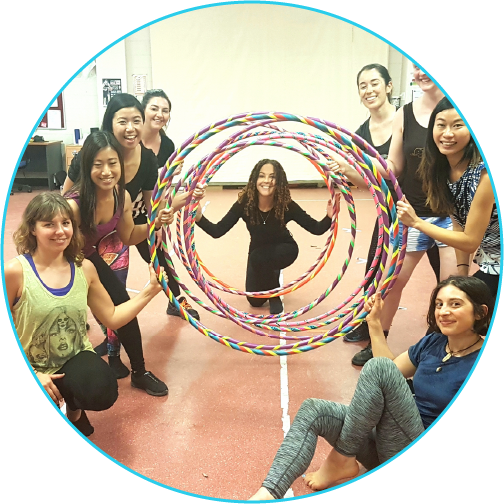 Never hooped before? No worries. Join our Beginners Course where we start at the very beginning. We spend time learning the foundations of both on-body and off-body moves to give you a solid start and pave the way for your future hoop shenanigans.
Been hooping for a while? Consider yourself intermediate? Each class dives deep into tech and tricks and transitions and concepts for flow. You will be as challenged as you're ready for and supported to level up!
Our spaces are safe and inclusive. Every body is welcome.