A Beginner & Intermediate Hula Hoop, Dance & Yoga Retreat.
Hoop Away is Australia's only winter hula hoop retreat. An easy 1 hour drive from Melbourne, surrounded by native bushland, it is LUSH! An intimate setting with a maximum of 24 retreat participants and no more than 10 people in each workshop. The Hoop Away retreat is all about exploration, inspiration, connection, play, and taking your hooping to the next level. It's a weekend away with a focus on YOU.
"A supportive environment  with workshops really well-designed for all skill levels. The whole vibe this weekend has been amazing. Beautiful, friendly and empowering."
When: 5-7 July 2019
Where: Maitripa Centre, Healesville
Details of the incredible retreat teachers and workshops; accommodation, food and venue below. And scroll right down to check out the photos from 2018 and really get a feel for the vibe and what it's all about.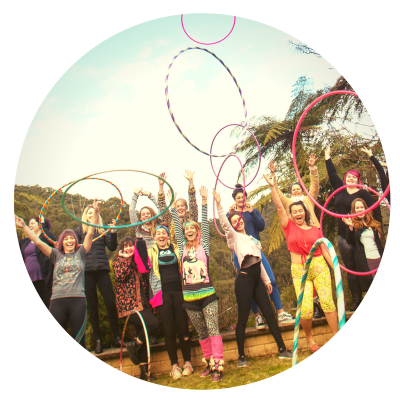 hoop dance | hoop tech | hoop choreo | flow
yoga | myofascial release | meditation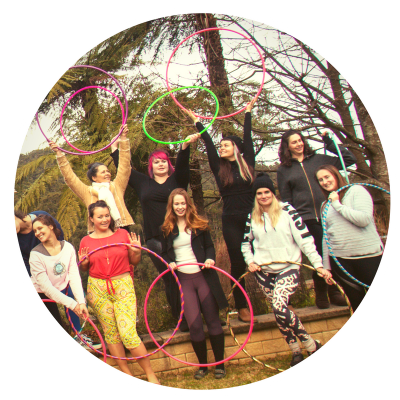 • Rev it up and take your skills to the next level
• Explore the dance in hoop dance
• Learn a hoop swag of new moves
• Play with as many hoops as you can handle
• Take home loads of techniques and tricks
• Stretch, release and strengthen with yoga, acro and myofascial release
• Chill, reflect and tap into your zen with morning circle and meditation
• Pamper yourself with incredible food and great company in a stunning location
• Consider this your retreat - time to shine, chill, giggle, rest and play
Workshops
Techin' Out

Hoop Dance Flow

Multiple Hoops

Pyjama Jam
Hoop Choreo

Twin Hoops

Creative Crafting

Circus & Theatre Games
Myofascial Release for Hoopers

Yoga and Stretch

Meditation

Acro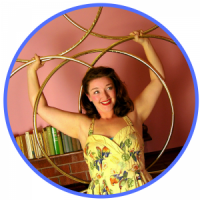 TEAKI HOOPS
Tea is a performance artist, educator and hoop maker. As a self-proclaimed "retrophile" it's no surprise hula-hooping has caught her in a spin. She believes the hoop possesses power in its simplicity and universality, allowing us to embody our purest form of intelligence and self-expression – in play.
The "effervescent, raucous and wonderfully ridiculous" Tea is easy on the eyes and impossible to ignore. Her quirky twist on circus style-multiples hooping thrills audiences, while her characters share stories that are as piquant as they are playful.
Notorious for using unexpected revelations, comedy and wit to approach contemporary and taboo subjects with shockingly hilarious results, Tea's performances are perpetually 'en pointe'.
Rolling back into the hoop life after becoming a mum, Tea takes efficiency, simplicity and empathy seriously when it comes to facilitating hoop students learning.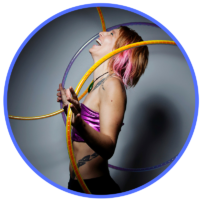 DONNA SPARX
Donna is a hula hoop dancer, teacher, performer and lover with a background in Creative Arts.
Recognised globally for her creativity, innovation, flow facilitation and playful approach, she has taught thousands of people to hula hoop!
Donna has performed with the Women's Circus and brings a passion and playfulness to her work that is infectious.
Fuelled by a passion for transformation and growth on a personal, business, local and global level, she is a born facilitator with an appreciation for the power found in play and flow.
When not playing with or teaching hoops, Donna can be found training with the Women's Circus, dancing, inventing new smoothies, getting out of the city, or deciding which leggings will best reflect her mood.
Her motto: Do it 'til you can.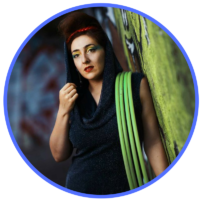 HELLY HOOPS
After a performance tour in 2018 of Paris and Central America, Helly Hoops has returned to Australia in full power, bringing a 5-hoop LED act back with her. Think tech, doubles, multi-hoops, and balance. With more or less a degree in clowning, this nutty natural entertainer fuses comedy and skill in workshops so you learn a bunch of tricks and stay smiling. Expect the unexpected in Helly's workshops, and expect anything and everything from jokes to magic tricks in her hosting of the Showcase. Helly has taught at hoop conventions in Australia, the UK and Europe and performed at festivals all over the world including Rainbow Serpent Festival (Aus), Electric Forest (US) and Earthcore (Aus) to name a few. From the US, UK, and Australia, to the jungles of Nicaragua, see why Helly's having a blast performing and teaching hooplah.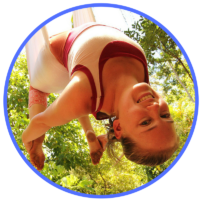 JO STEWART
Jo has been teaching yoga for over 10 years and currently teaches Antigravity Aerial Yoga, Pilates, Yin and Vinyasa classes to small groups. She is a level 3 Senior teacher with Yoga Australia.
Jo's creative approach adapts to each individual's needs. She loves bringing yoga out of the studio and into the world and shares her meditations online via Insight Timer.
As a hooper herself, Jo loves experimenting with combinations of movements from all disciplines to nurture those stubborn niggles and tight spots that can develop, and to enhance the feeling of free-flowing movement in the body. She works with Internationally performing hoop artists, helping heal injuries, and reach their strength and flexibility goals. This body of knowledge continues to evolve as Jo's focus is on helping each individual tune into their own body's unique needs and equip them with a selection of self-care techniques to feel as fabulous as possible in their dance and their hoop!
Oh, and did I mention she's super qualified:
Jo has Completed over 2000 hours of teacher training including Advanced Diploma of Yoga Teaching (CAE/Australian Institute of Yoga Therapy), Studio Pilates certification with Taube Pilates, SomaChi yoga certification with Lianne Metcalfe, and Myofasical Release and Yin Yoga teacher training with Jo Phee.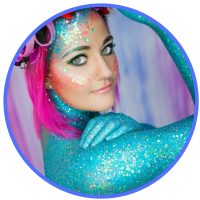 ARIANE BINGHAM SPARKLES
From Dita Von Teese and Collette Dinnigan to Danni Minogue and the head of Madonna Australia, Ariane has had the pleasure of working on some amazing collections, garments and costumes, not to mention collaborating with many amazingly talented performers and creatives Australia wide.
Born in England, Ariane developed a love of fashion while studying at college. She took this bubbling passion, combined it with further studies and moved to Melbourne in 2010.
Ariane has a love for ensuring a woman feels comfortable in her body – be it alone, with a partner or in a crowded room
She owns and operates Ariane Bingham Sparkles – where sequins and lycra run wild, and The Lioness and Her Unicorns – the home of her Corsetry, Bridalwear and most recently Eco Recycled Plastic Swimwear.
Her participation and offering at Hoop Away is going to be an absolute treat!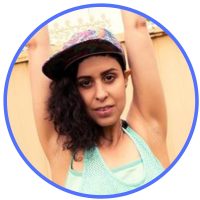 SHOSHI
Shoshana is a certified consciousness coach, feminine embodiment mentor, holistic health coach, personal trainer and workshop facilitator.
She has a background in health, nutrition, movement & detox, and what underpins her holistic work is giving permission to embrace feminine flow and wisdom. Shoshi brings alchemy of self-healing, self-love, feminine ritual, natural nutrition & holistic movement to help women live vibrantly turned on lives.
We are excited to have her at Hoop Away leading us on a funky journey through Drum and Bouncercise and Dub Stretch workshops. Her voice is to die for, her lyrics amazing, her facilitation is silky and a whole lot of fun.
What's included at the Hoop Away retreat?
Family Friendly Hula Hoop Retreat
So all you hoop mamas out there can get your hoop on without having to leave bubba at home.
Kids are welcome at the retreat and so is a partner/support person. And – you can share a family room!
Kids under 5 are free – we just ask that you bring your own baby change table and bed as the beds there aren't safe for toddlers/infants.
How to make this magic happen? The additional charge for meals and accommodation for your partner/support person is $275 and this can either be added to your ticket if purchasing online, or added into your payment plan.
Note: For safety reasons, kids are not to enter the workshop spaces.
Hoop Away 2018 Photo Album