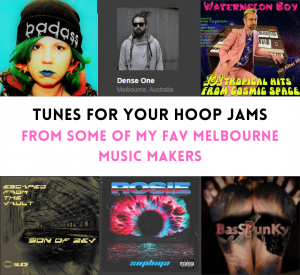 Let's JAM! Here are some of my fav tracks from some of the awesome music makers, shapers and shakers that Melbourne has to offer.
I'm often asked what tracks/mix I'm playing in classes and at hoop jams so have decided to start sharing some of the tasty treats and they ARE delicious.
This is a VERY eclectic collection of fun for you to taste n savour.
Nom nom nom.
S O P H I Y a: Gender fluid rapper who burst into the Australian Hip Hop Scene in 2018.
https://open.spotify.com/track/6BRUhKUJjNc09y2Nb7e4VF?si=64e14d7148364b93
Watermelon Boy: Bouncy, sunny and ready for summer hoop jams, Watermelon Boy's latest album just dropped! My fav track on it – Just Start Party.
https://open.spotify.com/track/2PX6si8zM9QnN9RICOuFMO?si=38162e0ff43a46bd
Dense One: From Drum & Bass through Dub/Dubstep roots, to glitched out funk stomping bass music. Dense One is the godfather of Skwid, diverse, experimental and straight from the heart and soul.
https://soundcloud.com/denseone/dragon-dreaming-festival-2018
Son of Zev: Melbourne Techno producer whose tracks are influenced by breakbeat, electro, and experimental electronica.
https://soundcloud.com/son-of-zev/free-press
mRas Nitzi: Wonky drum n bass. mRas Nitzi (Mръсници), Bulgarian for "filthy people", is a DJ project that walks the line between the staunch, the sexy and the strange.
https://soundcloud.com/mrasnitzi/twisting-frequently
BasSPunKy: Electro Punk Funk Rap
https://soundcloud.com/basspunky/i-dont-wanna-be-a-rock-star