The end of the year is fast approaching, which means it's time to start organising the work Christmas party. End of the year celebrations are a business tradition which create comradery and appreciation, and is a great opportunity to celebrate all the hard work everyone has contributed over the year. Planning an exciting event can be fun! And, with the right mix of entertainment or activities, your end of year event can have everybody looking forward to the coming year. If you're looking for 3 super fun work Christmas party ideas, we have the star for on the top of your tree.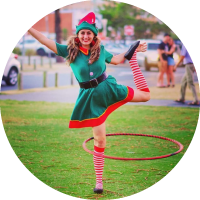 Roving Performers
Are you looking for a magical way to welcome your guests to the event? Or are you wanting to set a certain tone or hire entertainers that fit with a particular theme? Christmas-themed roving performers are a jolly way to add some extra cinnamon spice to your work do.
Our professional performers will stun and amaze as they mingle and entertain your crowd. Roving performers can light up your event with Fire/LED props such as hula hoops, fans, poi, and more. Whether you want to add a bit of sparkle to your office or out and about, our roving performers can work within any location.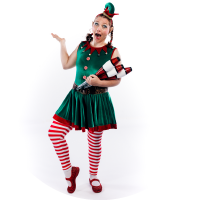 Playspaces & Workshops
Perhaps you're after some hands on, interactive fun? Something that will allow people let loose and giggle their way to the end of the year? Playspaces and workshops offer a hilariously fun, safe space to play with a swag of circus props including hula hoops, spinning plates, poi, giant bubbles, and juggling.
Workshops offer a more structured session and make for a wonderful stand-alone activity or a connected, team-building session as part of a bigger program. Playspaces are more free flowing, allowing people to pop in and out and can fit right in with the party vibes. Both options allow your team to play together and learn from one another. No one leaves elf on a shelf here.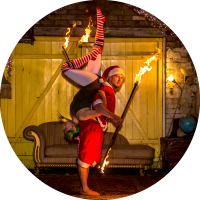 Stage Shows
From 5 to 15 minutes, stage shows are professionally crafted acts guaranteed to wow the crowd. Have you booked a reception hall for a dinner and want to add a floor show? Our wide range of performers include belly dancers, acrobats, hula hoopers, jugglers, and more. Fire and LED shows are also available. For a full list of our available stage show performers please contact us.
Want Hoop Sparx at your work Christmas party?
Our packages are fully customisable and suitable for all ages, experience levels, and abilities. If you would like to know more about our event entertainment, please get in touch or request a quote. We look forward to helping you celebrate!