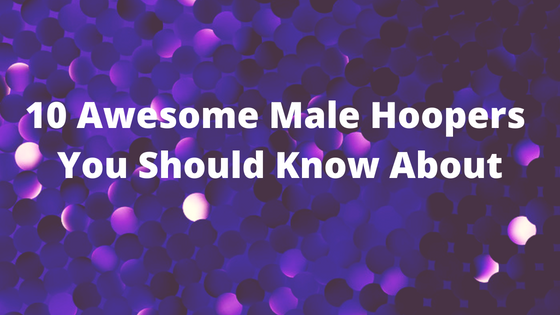 In no particular order we have assembled some of the greatest male hoopers you should definitely know about!
Drum roll please… Let's begin!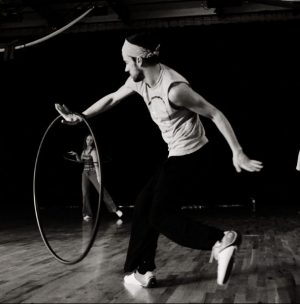 1. Jonathan Livingston Baxter
Ever heard of paddles and breaks? Woo! These moves became really well-known after Baxter started carving it up a few years ago. This male hooper is a must-know for anyone wanting to understand the recent history and development of hula hoop tech. He popularised practices like blindfolded hooping and falling deeply into flow and contact with the hoop. Find him at the Hoop Path and on Facebook and Instagram. Photo credit: Hoop Path
2. Steve Bags
An inimitable humour and penchant for loopy hoopiness, if you've ever taken a workshop with the great Steve Bags, or "Bags", you'd know about the depth of knowledge this male hooper has for all things hoop. Check out some butt hooping whilst juggling with partner Valentina Orbit over on Instagram or Facebook!
Photo Credit: Twisted Orbit Circus Entertainment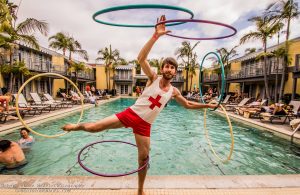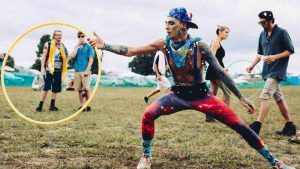 3. Caikachu
This popular male hooper is making waves in the hoop world. With a recognisable style and some pretty crazy tricks, Caikachu describes his wizardry as "energetic and powerful, graceful and windy. I like to use tech, but I also like to get glitchy." Drawing inspiration from hip hop dance, he is one to check out. See him on Instagram and Facebook. Photo credit: Moodhoops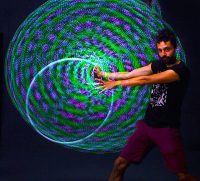 5. Ali Alektrik
Ali has an electric style and has performed all over the world, from Nicaragua with Performers Without Borders to Boom festival in Portugal. Particularly snazzy with a fire hoop, this male hooper is one to watch. Lots of awesome on his Instagram and Facebook.
Photo credit: Natalie de Jesus.
6. Benjamin Berry
Benjamin Berry has been dancing up a storm and doing some amazing work in the last few years. He was on the 2015 Electric Forest Hoop Troupe, and has since toured the US teaching workshops. You can stalk him on Instagram and Facebook! Photo Credit: Scott Peterson
Benjamin has an alter-ego drag persona called Flo Leeta, who performs in library programs to educate and guide "young participants through an equally entertaining and educational presentation. The takeaways are exposure to gender diversity, self expression through character inspired dress, and an overall message of living boldly and confidently, like a Queen."
Check out Floleeta on Instagram here!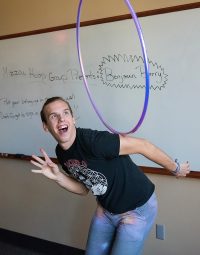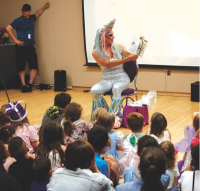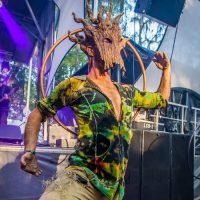 7. Lee Jeffries
With an incredible way of moving and a master of head hooping, Lee Jeffries has blown us away with some show-stopping collaborations with Morgan Jenkins (@missmojangles), featuring in videos like "Despondence." Drool over his mad skills on Instagram and Facebook. Photo credit: Moodhoops.
8. Bencirka
The joys of the internet mean we get to enjoy the incredible work of training circus artists from across the globe. With some of the most amazing floor work and high hoop throws of recent times, Bence or "Bencirka" is a must-see male hooper on Instagram and Facebook.
Photo credit: Bencirka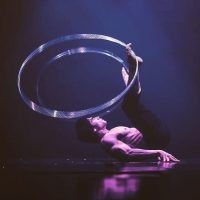 10. The Quizzical Mr Jeff
Also known as Zeph, or The Quizzical Mr Jeff, he has had many incarnations and in some of the most exquisite costumes. A male hooper with eye-popping iso-manipulations and some delicious videos, and he's not only a hooper. You can check out all his wizadry including juggling, cyr wheel and costumier skills on Instagram and Facebook. Photo credit: Smart Arts Entertainment.