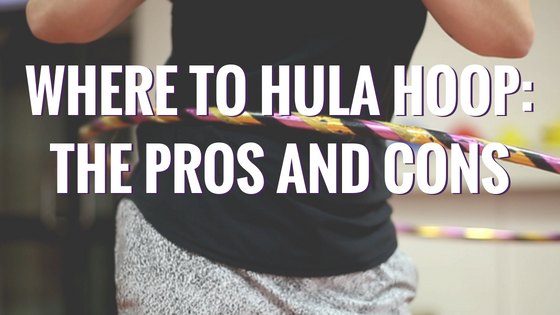 Struggling to find the perfect spot for hula hooping?
We explore the pro's and con's of some of our favourite places to hula hoop including indoors and outdoors and a bunch of places you might not have even thought of before!
Pros:
No-one is watching! Enjoy the full 2 x 2 metres that is all YOURS to play in – so long as it's a small range of movement like waist hooping, arm hooping, and, well…. Here's hoping your living room is a bit bigger than mine.
Cons:
If you're sharing your house you might have to move when your housemates or children want to get to the kitchen. Likewise you should be mindful of any fragile objects, low hanging lights (RIP) and other important family heirlooms (RIP…. shhhh).
Pros:
Woohoo! Hello sunshine! It can be the awesome sweet spot of privacy, freedom, and where the sky's the limit for giant unruly pizza tosses.
Cons:
You might not have one. Or it might be shaded, crowded, have heaps of stuff inside it or a really excited, jumping dog that wants your attention. And you're in trouble if it starts raining while you're hooping.
Pros:
An awesome place for you to play, train, whatever. Enjoy a large space where you can feel free to play and learn new tricks. A great place for hoop jams with friends too.
Cons:
Rain and wind makes Jack a dull boy. Also, you might receive unwanted attention in that you don't want to be hooping or performing for other people. And it might be sketchy at night with earphones in, depending on where you are.
Pros:
Lots of space, tall ceiling height, often quite flat and abandoned. A large and protected area. Usually not very crowded. Also, might offer the COOLEST location for a hooping video.
Cons:
Might be kinda unwelcoming or filled with toxic runoff or rubbish from the local plastic factory. Or maybe has shady characters. And, don't drop your hoop in the river!
Pros:
You might see other cool people doing great things that inspire you. Sometimes the floor is spongey and fun for rolling around, when you forget you're there for hooping.
Cons:
Often costs money to enter, and this adds up if you plan on going there to train every day. Some spaces get super packed with people, especially when it's raining.
Pros:
If you enjoy attention this is the perfect hooping place for you. Fulfil all your greatest wishes of being a star and take that stage, baby.
Cons:
Pre-show nerves, necessity to overcome fears, and the need to organise your costume, hair, make up and stage hoops. The risk of messing up in front of a whole heap of people and whether you feel okay with that. May also take time to set up beforehand including organising and liaising.
Pros:
A dedicated space to learn new tricks, with a teacher who will be super nice to you and help you learn hooping at your own pace to cool music. The hula hooper's dream who wishes to learn more while having fun.
Cons:
If you're sad or angry it'll be a hard place to remain that way. It's a commitment that has its own challenges of seeing it through but when you do, you'll thank yourself.