Get fit the fun way!
Surprise yourself!
Feel happier & fitter!
All levels of experience!
Why join an in-person or online hula hoop class?
Burn 

7 calories per minute

Tone 

abs, obliques, butt, thighs. biceps, triceps, shoulders

Be a kid again and 

giggle 

while you workout

Challenge 

yourself

Join a 

safe

, fun-filled learning environment where age, shape and experience don't matter

Get

fit

– the fun way

Connect

with other awesome people

Download video

if you can't make it to class
Learn dazzling hoop tricks,
get mega toned
and discover your own
hula hoop dance style
in these super interactive galactic classes!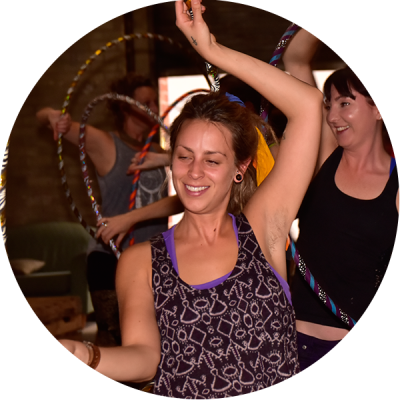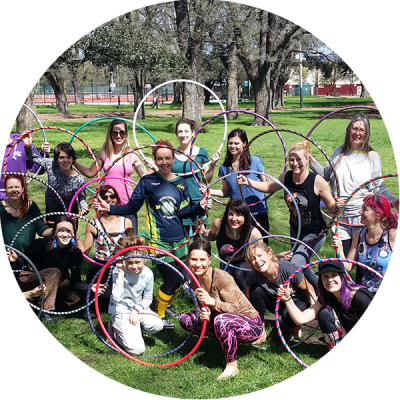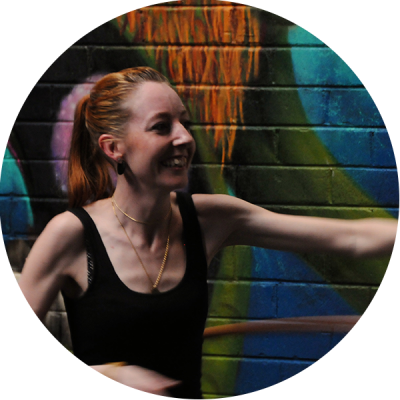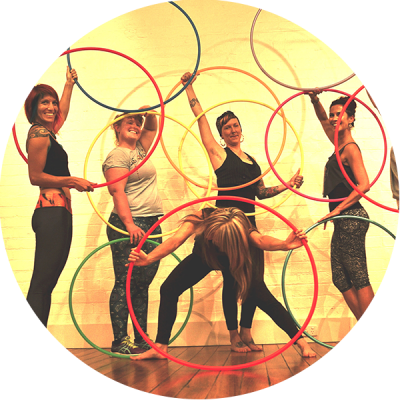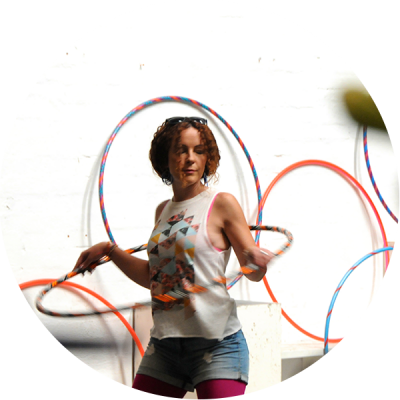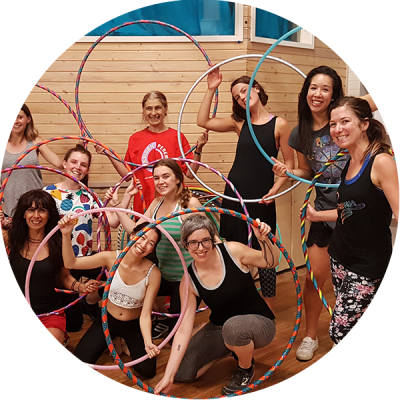 Exercise has never been more hilarious. If you thought hula hooping was fun when you were a kid, you should try it as an adult. It's quite the workout and takes a ton of co-ordination, but the best thing about it is, you'll be laughing so hard you won't even realise you're working up a sweat.

Cintia

My Poppet
When I first started hooping I had virtually zero confidence. Going to Donna's sparkly classes, my confidence has blossomed and I feel so happy with my progress. I have learnt things I never thought possible (Look ma, no hands!) and most exciting of all I found my hoop flow during one of Donna's classes. I love going to class and it always leaves me in a good mood for the rest of the week.

Flisso
Donna's enthusiasm for hooping is infectious, she's a fun and encouraging teacher, who builds on and connects each class so effortlessly. I love Hooping, it is relaxing and meditative, as well as great exercise!

Kirsty
Thank you for creating an upbeat and fun Hooping Vibe. It's a pleasure attending your weekly classes, I feel happy and energised after each class. I cannot wait until next term begins.

Elle
I had no idea what to expect when I signed up for hooping classes. It's more fun than I could have imagined! I am so hooked on hooping and the classes go so fast while I laugh and hoop away, and it's exercise at the same time! Donna is a great teacher and I look forward to continuing my hoop journey next term.

Ceysie
I've done a few classes here and there but these were especially well planned and really clicked with me, despite being very uncoordinated at the time. I've been practising since and it's fantastic!

Julia
Had loads of fun last night, and feel great today - all those good endorphins from a bit of exercise and learning something new.

Alison
I enjoyed the classes. Donna is a great teacher and it was amazing how much was packed into one hour. I've learned so much in just two classes! cant wait to learn more.

Nicole
I Iove that Donna works to make classes accessible regardless of experience and body type. She'll show us harder and easier variations of moves, so there's always opportunity to challenge yourself, but never any expectation to do more than is feasible for you.

The inclusive language she uses makes it easier to feel comfortable in the space, and her enthusiasm makes every attempt or achievement feel like a great success!

I typically feel nervous before class, but that disappears as soon as we get started, and by the end I'm feeling excited about whatever new skill I've picked up!

Brede
The amount of times especially during lockdown that I have had zero motivation to attend an online class, but have pushed myself to, and each time found that only a few minutes in I am SO glad I did, as Donna's class always lifts my mood and after a class I am guaranteed to be in a much better frame of mind.

Liz

For free tutorials, competitions, special offers and the latest hoopla!