Everyone today is looking for ways to get fit and stay fit. Unfortunately, the mainstream fitness exercises are either too repetitive, too strenuous or too boring for some people to stay interested and keep up. If you are among the people who are tired of normal, regular exercise but still want to get fit, stay fit and maintain a healthy weight then hula hoop class is what you need. Hoop Sparx offers hula hoop classes in Melbourne to people who want to get inspired, get fit, play and have fun while at the same time exercising and getting into shape. Here are some of the things to expect in a hula hoop class:
A place to have fun, play, laugh and get fit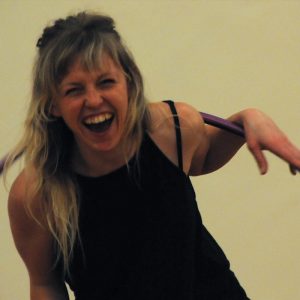 This is not your ordinary exercise class. Here you get to learn things that are not taught in any other exercise class. There are plenty of things to do from learning different moves, drills, concepts and even transitions. Each class is a combination of cardio, toning, group and individual tuition. There is great music and the opportunity to express yourself through dance if that's your thing. You get to meet new people, have fun, play and the most important of all get fit.
A holistic class for the mind, body and spirit
At Hoop Sparx, we understand the importance of balancing these three important aspects of life. For holistic wellbeing, activities that nurture mind, body and spirit are needed. Hoop Sparx' hula hoop classes cover all of these! The mind is challenged with new moves and concepts, the body gets a cardio and toning workout, and the spirit gets taken care of through movement meditation with a focus on breath and repetition. Through our classes, you get to exercise the body, ease tension and relax the mind. It's playful, it's joyful and your spirit will be happy.
A class suitable for all ages and fitness levels
Hoop Sparx weekly classes in Melbourne cater to people aged 14+, with the majority of students being in the 25-45 age range. Our experienced team of trainers help beginners learn the basics and support more experienced hoopers to explore flow techniques, get creative, increase their technical ability and take their hooping to the next level.
Private lessons
We also offer private hula hoop lessons in Melbourne for people wanting individual attention. These private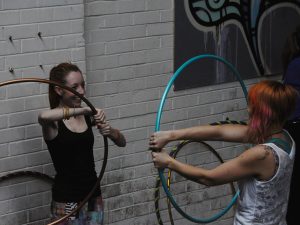 sessions are tailored to meet individual needs – be it hoopercise (fitness focus), trouble-shooting, finding flow, learning the basics or nailing a challenging move you have been working on for a while. The best thing about private classes is that you get all the attention so you're learning is fast-tracked. Private lessons can be for 1-2 people and take place in person in Melbourne, or over Zoom.
Small group private sessions
This is a class for groups of friends, colleagues, couples, teens or even members of a particular team. The group can consist of four or more people who want to try something different, give hula hooping a go, or who are looking for alternative ways to get fit and stay fit.
Discounted hula hoops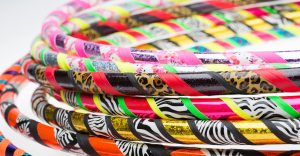 As an added bonus, we offer hula hoops to our students at discounted rates! We offer high-quality, professionally made hula hoops to ensure that everyone has the right hoop for their body type, hoop style and taste.
Skilled, professional and experienced trainers
Our team of well trained and professional trainers is always ready to take you through the first steps and ensure that you learn what it takes to enjoy the class. Our team of professionals is dedicated to ensuring that all our students have a great time and also achieve their fitness and/or hoop goals.
Great support system
Apart from our classes, we offer all our clients access to the Hoop Sparx online community. Here you can talk and share ideas and experiences with a community that shares similar ideologies and goals. You will be inspired, learn new tricks and techniques, and arrange to meet up with other students to hoop in between classes.
Hoop Sparx focus is on helping you achieve your hoop and fitness goals with different classes every week. No class is ever the same!