Learn to hula hoop right where you are.
No matter where you are, you can learn to hula hoop – you just need a phone or laptop and an okay internet connection. There are a smorgasbord of epic teachers from around the world offering private classes, live-stream lessons and workshops, and online courses. From Indonesia, to Australia, to the USA, here are some teachers with a great online offering.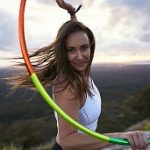 Caitlyn Woods – AKA Spinjoy 
Learn to hula hoop with one of Sydney's most outstanding stars: Spinjoy. Offering a Beginners Online Course and private lessons, expect a high energy and super sassy class with this wonder woman.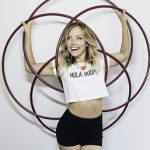 Morgan Jenkins – AKA Miss Mojangles 
Ostensibly one of the Queens of the hoop, learn to hula hoop with Miss Mojangles and experience her special kind of flavour. She's offering private lessons and semi-regular online workshops with a different focus every time. From choreography, to two-hoops and unique combos, her sessions cater to all levels and are well worth checking out.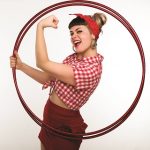 Hayley Murphy – AKA Hayley Hoopla
Learn to hula hoop with a Melbourne local – of hip hop 'Hoop Dogg' fame. Hayley's dulcet tones (which you may recognise from her awesome hoop rap music video) will guide you through her online choreo courses including Swing Style and Hoop Hop. Get awn it here.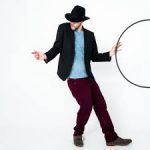 Lee Jeffries – AKA photographlee
Lee offers private lessons online and you can book him by messaging him on Instagram. Lee has his own unique and inimitable style that is infused with epic poppin' and lockin' and sick dance moves. Get flowing. Get a bit of Lee in your hoop life and bring some serious DANCE into your hoop.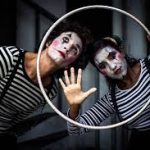 Fiery Pixies – AKA Shaheen and Shouniez Van Der Schyff
For some playful, embodied tech and flow taught by total clowns, you have to check out the Pixies. Their online Isolation Series course breaks things right down and you'll be cutting some magical shapes in no time.As trained laughter professionals you'll learn a bunch of cool hoop tricks and giggle up a storm.
Jasmine Kiene – AKA Hothoopdancemama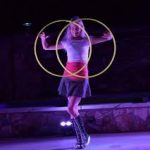 Learn to hula hoop the heck out of twins with Jasmine Kiene. For all things super tech and twinny, check her out here. Jasmine's offering private one-on-one lessons focusing on her specialty – twins. If you reckon it's time to upskill with not one, but two, Jasmine is definitely one to reach out to.
Aaaaaand learn to hula hoop with me, Donna Sparx…
This is our JAM.
Teaching hoopla is my number one love. From festivals, retreats, conventions and back to my home turf of Melbourne, I've been teaching 7 straight years of classes, courses and workshops. Here's what I've got for you.
Learn to hula hoop for FREE with 100+ tutorials on my Youtube channel.
Or, get into the spin in our live online Beginners or Intermediate Classes covering foundations, tech, flow, combos, on and off the body. Or, dive into a Private Lesson – for adults, kids, or the whole family. For live classes, check out the weekly class timetable.
There are also 10+ downloadable class videos (1 hour per class) covering twins, breaks, folds, choreo and flow, and 2 online courses: techy Twins (2.5 hours of two hoop training and drills), and Breaks (10 days of breaks training, 15+ breaks and patterns).
Here's what people are saying:
"Fantastic teacher, able to accommodate for any hoop level… Her classes are great and very engaging, tutorial videos are great, it really feels like I am right there with her!"
"I had such a brilliant time in my hooping lesson! Lockdown in Melbourne has been getting me down but after our class I couldn't stop smiling. It's just what I needed and I've already signed up for more."
If there's something particular you want to learn and you're not sure who best to learn from, get in touch. We love talkin' hoop and are happy to help you connect with the right person. 😉 You CAN learn to hula hoop from anywhere – all you need is a hula hoop. Practice, patience, and play. You got this.