A bar or bat mitzvah is a once in a lifetime event.
It's a time to celebrate with your family and friends in the most memorable way. Hoop Sparx has a range of unique party activities and entertainment available to help your event stand out! From watching professional performers to interacting and learning from them, our party services are designed to be inclusive, delightful, impressive, and FUN!
Activities
Have you been to a bar or bat mitzvah with hula hoops? Hula hoop parties for 12 & 13 year olds are a fun way to get everyone involved. Our hooptastic party performer will be in a colourful costume, ready with plenty of games and tricks to teach and then…everyone will get to learn a super sparkly choreographed group hoop routine with all their newly acquired hoop skills. Hula hoops are provided for guests to use with the star of the party receiving their very own Hoop Sparx hula hoop.
The ultimate add on activity is our hula hoop making workshop. Guests get to be creative as they decorate their very own hula hoop. Once the hoops are all made up it's time to start spinning!
Entertainment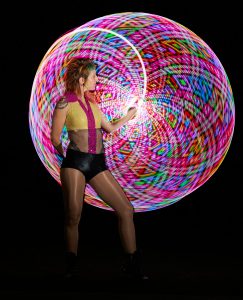 Bring the circus to your bar or bat mitzvah with Hoop Sparx entertainment. Our captivating performers offer a unique entertainment experience with their LED and fire circus stage shows. Our entertainers have an array of skills across multiple props including poi, dragon staff, hula hoops, fans, palm candles, and more.
Create a colourful and vibrant atmosphere at your event with our roving performers. From stilt walkers to hula hoopers, bubble fairy's, jugglers, and magicians, Hoop Sparx roving entertainment will impress your guests. Always in costume, our professional performers are also able to dress to match the unique theme and style of your bar/bat mitzvah.
If you would like to discuss your bar/bat mitzvah party ideas please contact us for a free quote.